We spoke with Reece Lawlor (RGL Customs), a sculptor and props specialist, whose first work in the movie industry was The Rise of Skywalker. He helped to create the look of the Sith Troopers. The article is spoiler-free!
---
– First of all, a personal question: how did you get a job in the film? Did you apply, or someone found your dioramas, and called you from Lucasfilm?
– Well, I do conventions, where I display and sell pieces that I make. And after it went well, reached out to people on Facebook to see if there was a way to make it into a job. And a member of the prop team gave my information to the costume department and received a call around a month later offering me a position.
– Oh, it is interesting! I've seen your website, there is a lot of cool Stat Wars stuff there. So you made all of those sculptures and props, but how can I imagine this type of job?
– It's really down to just putting yourself out there and just asking in community of prop builders for guidance and where to ask for positions.
– In this job, you got a concept and you are on your own, or you have you consult with other departments, like the concept artists or others?
– Well, we are a group of costume modellers that's are given the pieces and we assemble the required costumes.
– It sounds really exciting! So you collaborate other modellers to make props for the main and background characters as well. Which was your favourite prop what you made?
– So my job was mainly just assembling the Sith Troopers with around 6-10 other people.
– I see. Did you like their role in the film? I think you were very excited when you saw them in the final movie. Did you like it?
– I do like it, yes and of course seeing them more would've been nice, but I was happy to see them anyway.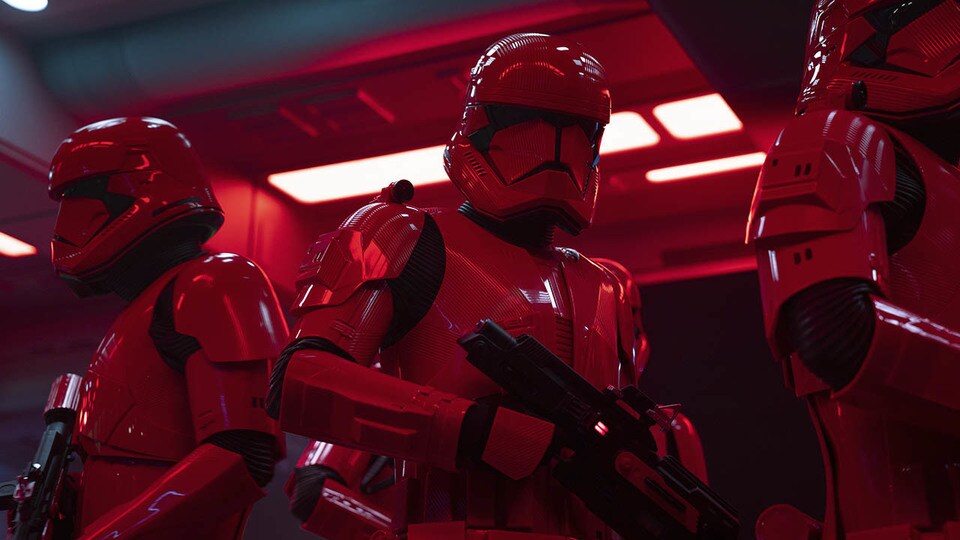 – They have a cool design, yeah. Do you have any funny or dear memory about this work? I know you met the director, J.J. Abrams for example. It was so cool.
– Um, just the memories whilst I was working in the film and trying to take the environment in, as it was my first ever job in the movie industry. And that pic was taken at the wrap party for the film.
– What a massive beginning! Would you like to work on other films or other Star Wars projects someday in the future?
– Of course! But for now, I am taking some time to work on my page.
– I saw there that you are interested in Marvel and DC stuffs as well. Which is your favourite franchise?
– Star Wars.
Cover image: Sith Troopers (Reddit)